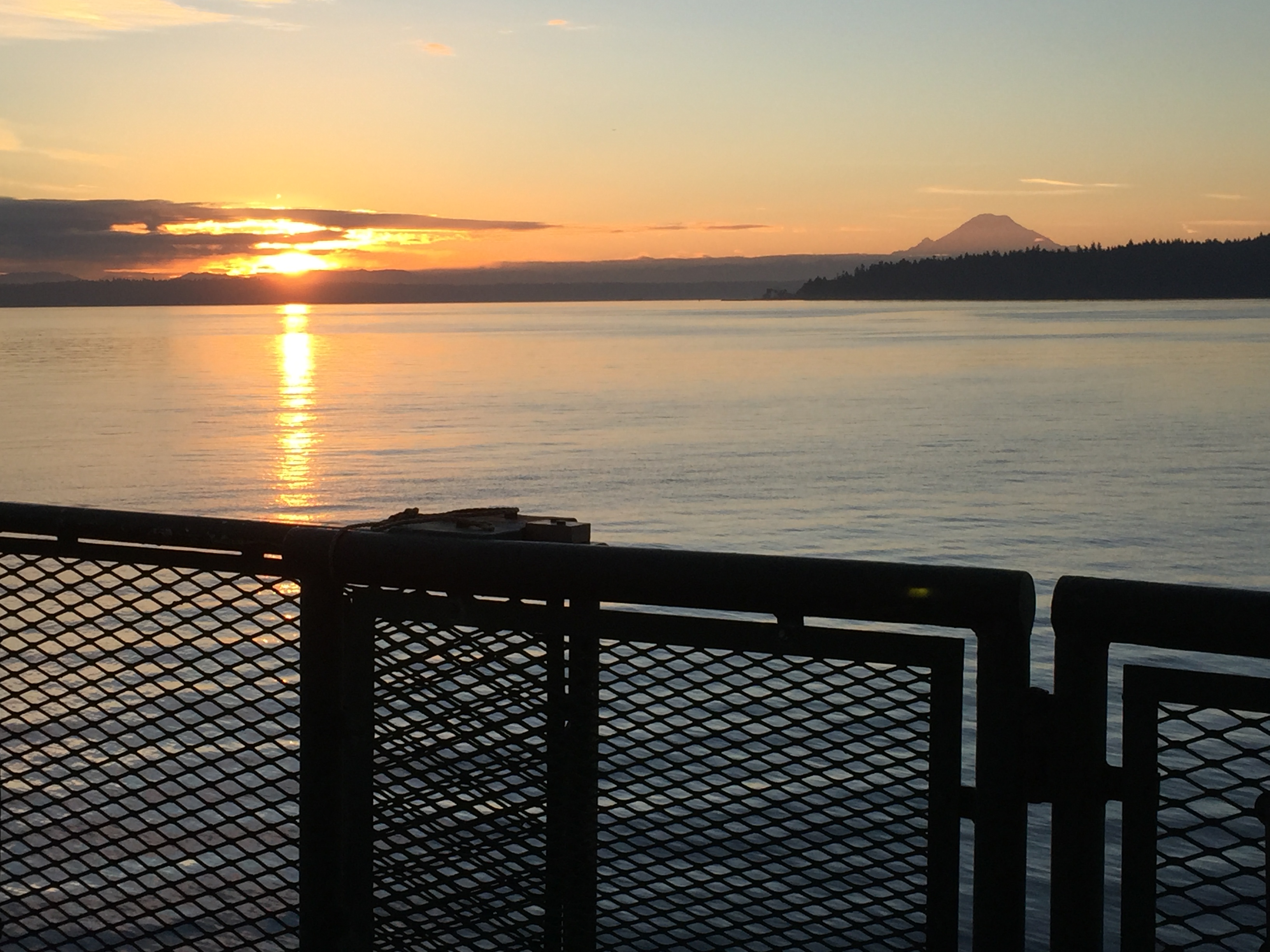 Dec 1st. 2015: 5:45 a.m.
It was a rainy fall day but despite that, I was excited to head out from Sequim Wa and drive an hour and 1/2 to Bremerton to take the early ferry to Seattle. Why, you ask? Because I was going to Seattle to be one of among the more than 150 real estate brokers and employees from Realogics Sotheby's International Realty (RSIR) gathered for their first annual Momentum Real Estate Forum.

I was asked by owners Stacy and Dean Jones to participate in one of the agent panels and was looking forward to sharing tips and best practices in social media marketing. I have done this in the past down at my brokerage in California but this was my first time ever to be speaking in front of the RSIR team so I was very excited and a bit nervous.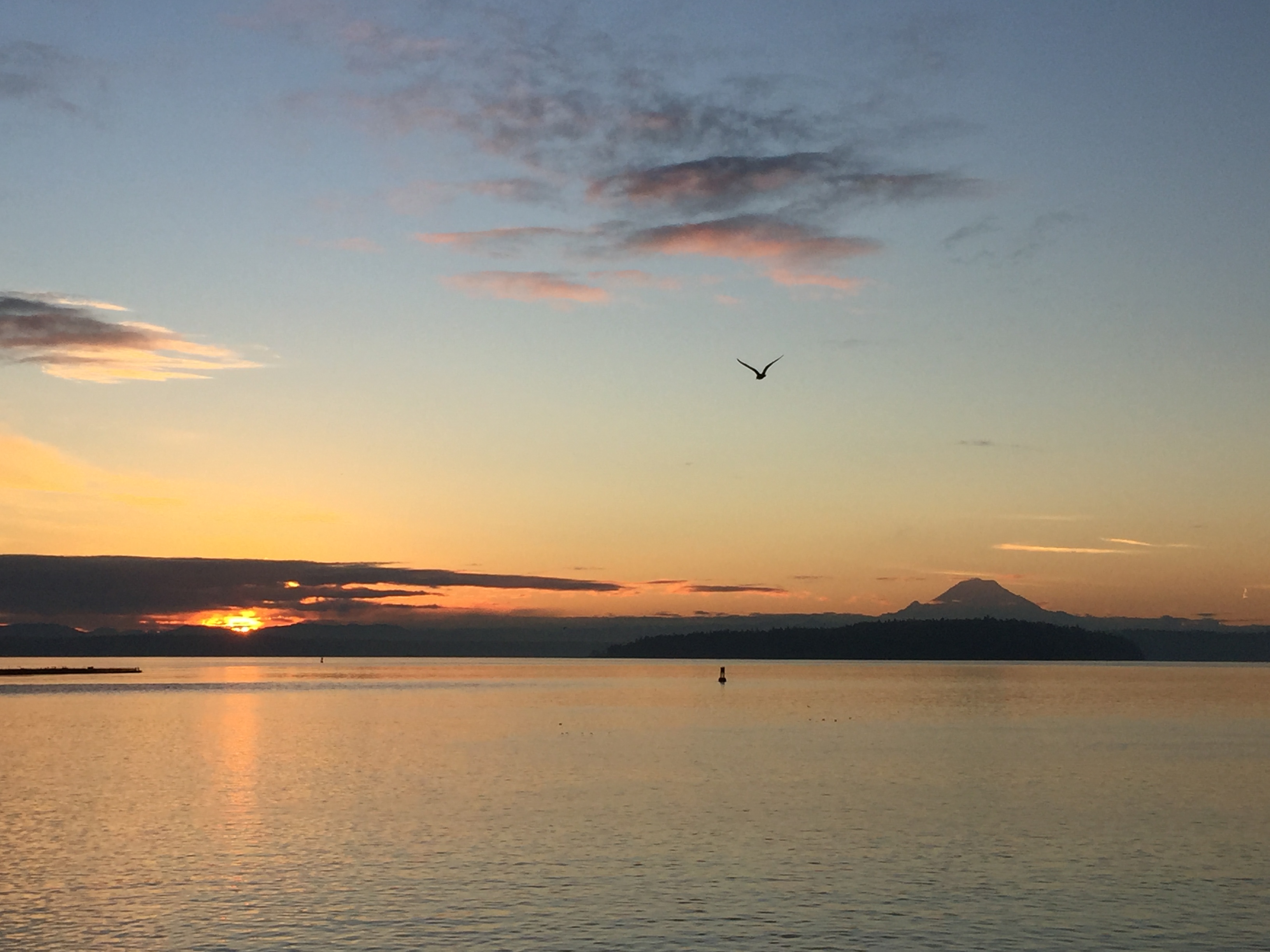 To calm my nerves and get perspective, I took a moment to enjoy the stunning sunrise from the ferry, mindful of the fact than many of the daily commuters are so used to it, that it was lost on them.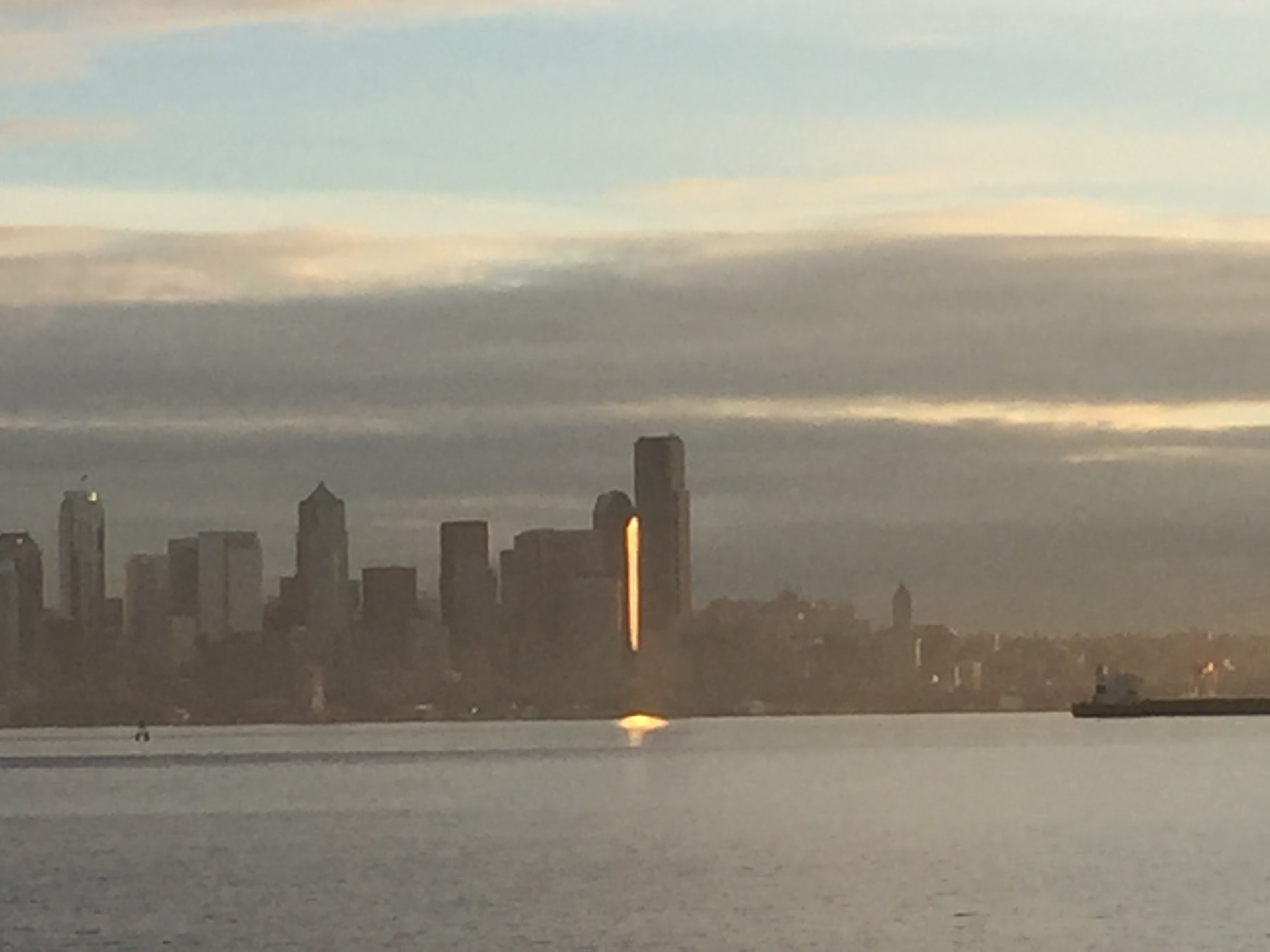 Interestingly the photo here of the skyline at sunrise has what looks to be an exclamation point made of light. I decided it was a sign of things to come and that the meeting would be quite exciting! Even the torrential rain did not dampen my enthusiasm for the opportunity to be a part of this event and when I arrived I knew this was going to be fun and informative day.

I, along with my colleagues were inspired by the passionate addresses by members of the RSIR executive team. In addition, the dynamic symposium welcomed third party guest companies including Apple, Rezora, Wipliance, The Puget Sound Business Journal, TravelsThrough Images, O'Conner Consulting Group, Caliber Home Loans, AdSage, Tiger Oak Publication and a special keynote presentation by Steve Games, Chairman of the Board for San Diego-based Pacific Sotheby's International Realty.

RSIR brokers were elated to learn the firm has entered top ten largest real estate brands* in Washington by total dollar volume generating more than $800 million in gross sales. According to Trendgraphix research, the firm is also the fastest growing* amongst peer companies and maintains the highest production* on a per broker basis with the highest average selling prices for both buyers and sellers. Also of note, the Belltown branch office of RSIR is the producing branch office for downtown condominium sales 2010-2015 (including half of the top 15 most expensive sales in 2015).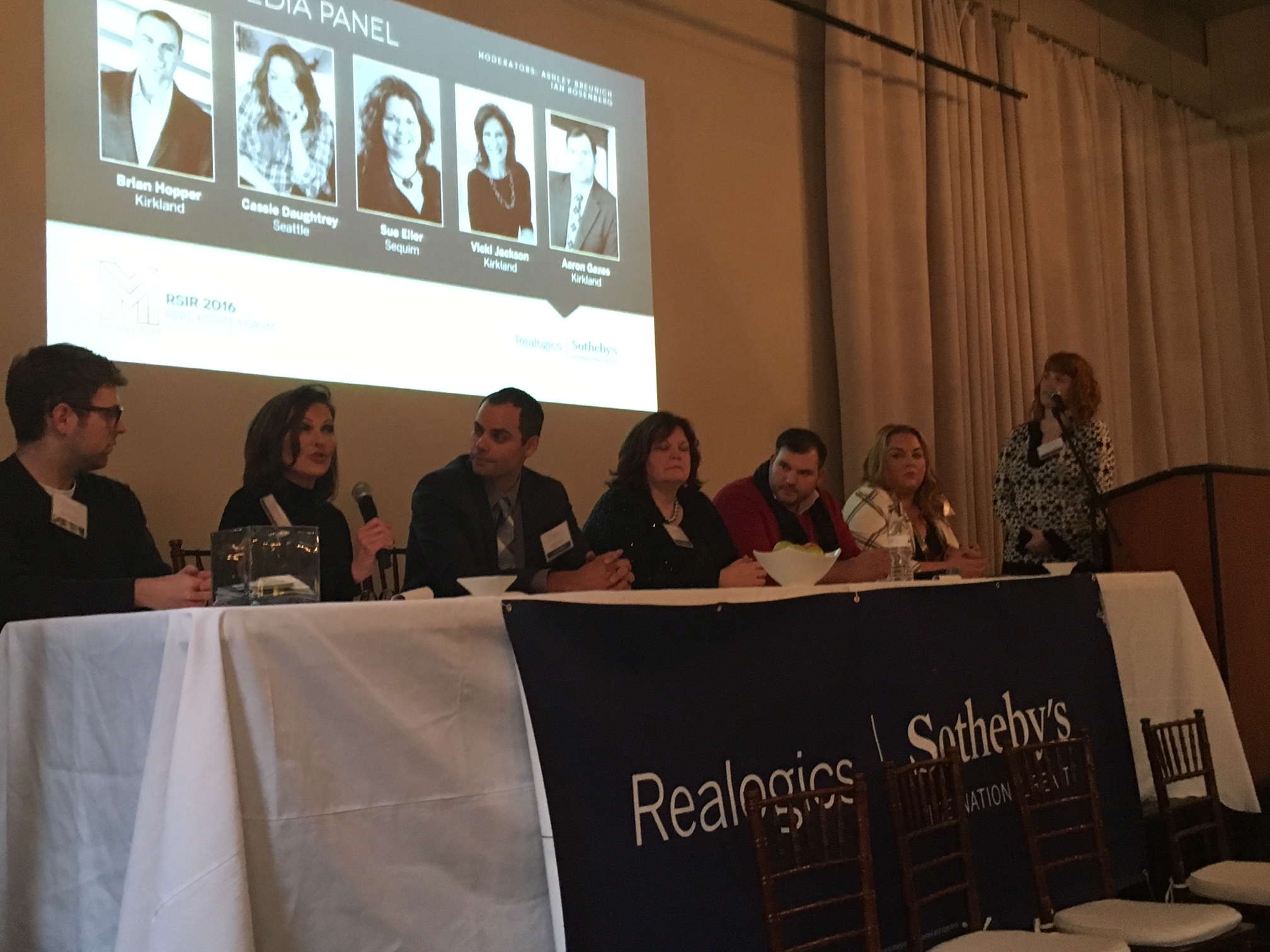 I was honored to partner with several of my colleagues to speak on the Social Media Panel, led by RSIR Social Media Director Ashley Breunich. She discussed best practices then with the help of Ian Rosenberg, RSIR's Online Marketing Strategist they moderated the panel consisting of the following agents who have established a strong social media presence: Brian Hopper, Cassie Daughtrey, Vicki Jackson, Aaron Gazes and yours truly!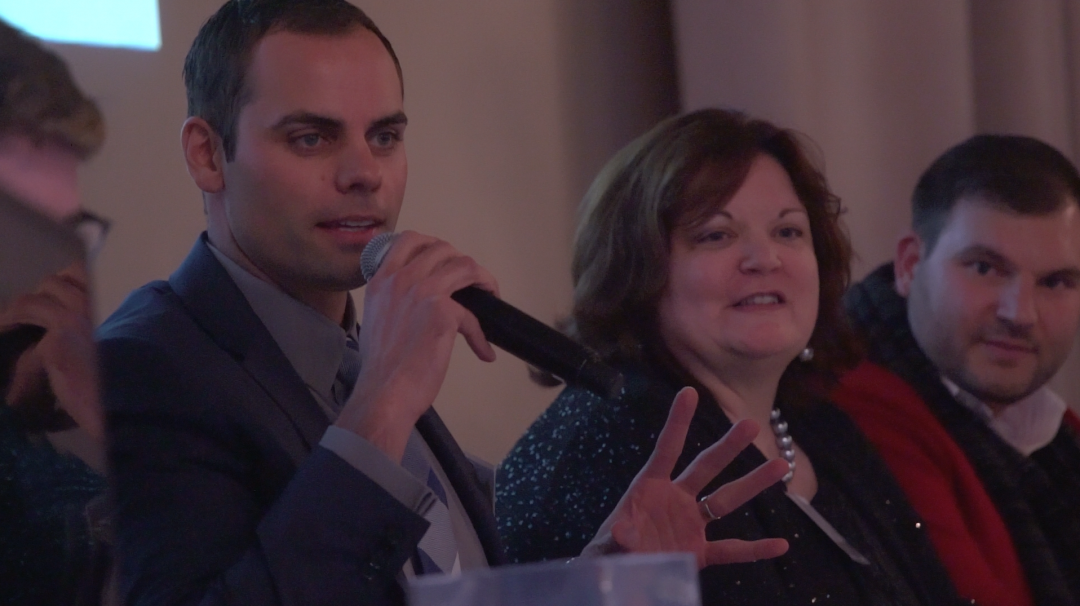 Each of us offered advice for posting, shared insights on our favorite social media platforms, provided success stories and attended to questions from the audience. It was a wonderful opportunity for me to meet many of my fellow brokers whom I'd not met before due to me living so far from the main office.
One of the highlights for me was the screening of the Evoker Films of Dean Jones and Stacy Jones. Click the links to view their films to see what the driving forces are behind this forward-thinking dynamic company that I am proud to be partnered with!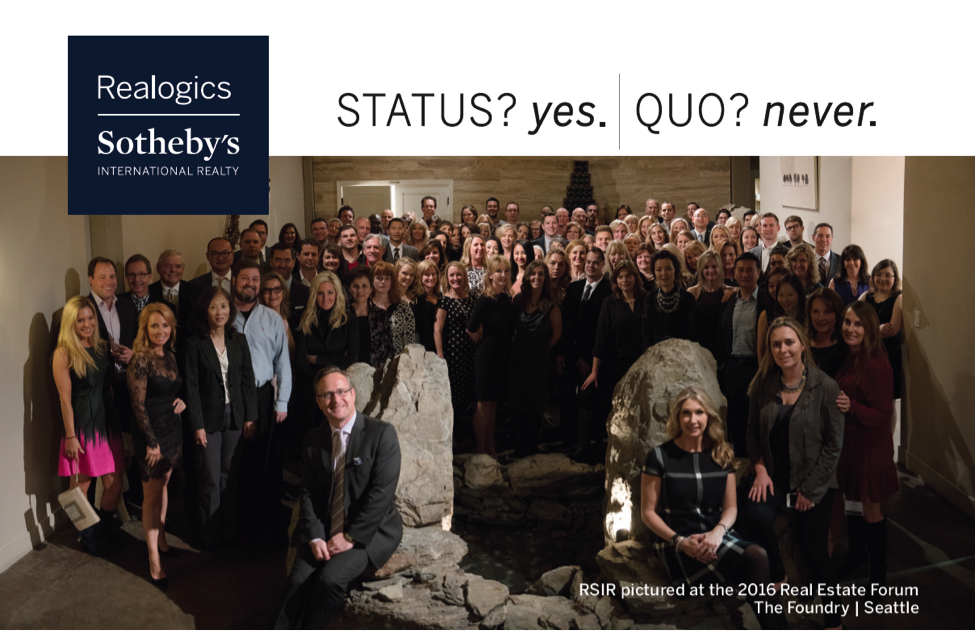 The symposium concluded with a group photo and hosted dinner by Herban Feast as RSIR team members were joined by their spouses or guests and the evening evolved into a festive celebration for the holidays.
To review more information about the event
you can read the RSIR blog here.